A short history of Stickman
Stickman was formed in 1992 by Sam and Stu Mullins, John Abadi, and Jeff Mussel. For a couple years they played covers at Iowa City/Cedar Rapids area venues. In 1994, Gordy Axt replaced Jeff as bass player. John moved out of state in 1995 and Nick Stika (guitar/vocals) and Bruce Vander Schel (guitar/pedal steel) joined the band.
The first Stickman CD (self-titled) was released in 1997 and received very positive reviews. In 1998, the band played the International Pop Overthrow Festival in Los Angeles. Their power pop anthem, "Checkout Girl" appears on the IPO compilation CD released by Del-Fi Records. The band has also appeared on the Iowa Compilation #5 ("Nowhere") and the Iowa City Acoustic Compilation, "Good Wood."
During the recording of the second CD, That Boy Again, Nick and Bruce left the band and were replaced by Kylie Buddin. The second CD was released in April 2001, again receiving very good reviews, including a spot on the "Best of the Rest for 2001" from Power of Pop.
In 2002, Stickman played the International Pop Overthrow Festival in Chicago.
In August, 2007 Stickman released their third CD, Thin White Line.
In 2013, Stu Mullins (along with former Stickman members Jeff Mussel, Nick Stika and Bruce Vander Schel) was inducted in the Iowa Rock and Roll Hall of Fame for their work in the band Dogs on Skis.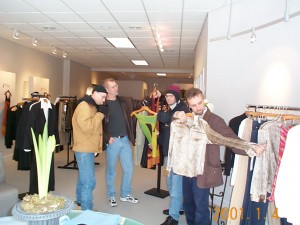 Pictured from left: Kylie Buddin, Sam Mullins, Stu Mullins, Gordy Axt